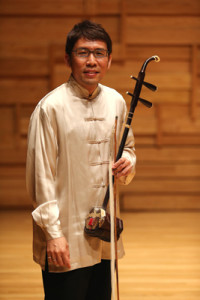 Ling Hock Siang, recipient of the 2004 Young Artist Award and Singapore Youth Award (Culture and Arts Team Category, The Huqin Quartet). A talented erhu performer, Ling holds a Masters degree in erhu performance from the Shanghai Conservatory of Music. His graduation recital held in Shanghai with guest performances by the Huqin Quartet in September 2005 was a huge success. Ling is also the first Singaporean to achieve a Masters degree in erhu performance.
Ling joined the Singapore Chinese Orchestra (SCO) in 1997 and is currently the Erhu Associate Principal. In July 1999, the SCO organized a concert entitled "Melodies with a Difference" – Recital by Ling Hock Siang and Quek Ling Kiong. In November 2005, staged a solo recital entitled "Hock Siang & Friends". In November 2007, staged an erhu and guan recital by Ling Hock Siang and Han Lei entitled "Oriental Folk Music" at the Esplanade Recital Studio.
Ling is also a member of the Huqin Quartet. He has performed with the group and the SCO in Beijing, Shanghai, Xiamen, Taiwan, Budapest, London, Gateshead, France, Australia, New Zealand, Mexico, United State, Japan, Korea and Malaysia.
Ling is also currently holding position as:
• Artistic instructor of the City Chinese Orchestra (CCO)
• Erhu Instructor of the Singapore Youth Chinese Orchestra (SYCO)
• Adjunct Instrumental Teacher (Erhu Performance) of the School of the Arts (SOTA)