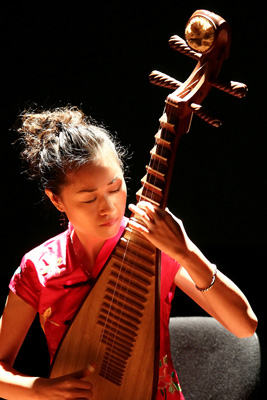 Wang Ji Ying is a music instructor with City Chinese Orchestra. She is also a member of the Pipa Research Society within the China Musicians' Association.
Wang started learning the Pipa when she was six years old. She has studied under the tutelage of maestros such as Wang Xiang Hong and Sun Shu Ling. Through the years, she garnered numerous awards and accolades. In 1995, her outstanding results gained her admission into the Primary School affiliate of the Central Conservatory of Music. She then studied under the tutelage of prominent Pipa musician and "Wang" Clan successor, Professor Yi Fan. She was subsequently promoted to the High School affiliate and eventually the Central Conservatory of Music in 2002.
During her years in school, she accompanied the Plucking Ensemble on numerous performance tours in China. She was awarded the Best Performance Award in the International "Long Ying" Cup Chinese Instrumental Competition. Besides participating in television recordings, she also recorded a Chinese Instrumental album in 2005. In 2006, she graduated from the Conservatory with excellent results and a Bachelor's degree. Since then, she has participated in many concerts both locally and abroad as a soloist as well as guest performer.
She is now a Pipa instructor for Shangyin Music School as well as for many other primary and secondary schools.