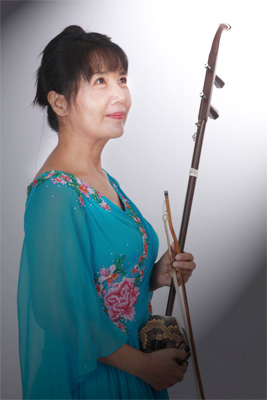 Wang Gui Ying graduated from the Tianjin Conservatory of Music in 1990 under the tutelage of renowned erhu performer and educator Professor Ju Wen Yu. She has also studied under other eminent erhu performers such as Zhao Yan Chen, Song Guo Sheng, Zhang Zeng Liang, Yang Jian, Liu Chang Fu, Liu Ming Yuan and Min Hui Fen. After graduation, she became a professional musician with the Tianjin Song and Dance Theatre before joining City Chinese Orchestra in 1993 as the Principal erhu player and chief instructor of the Strings section. In 2011, she obtained a Masters of Music degree from Beijing Normal University. At present, Wang is studying the art of conducting from Dr Tay Teow Kiat.
Wang is currently the Strings instructor at Shangyin Music School and Dunman High School Chinese Orchestra. She is also the conductor and Strings instructor of Raffles Girlsí School Chinese Orchestra since 1996. She is a diligent and meticulous teacher, having nurtured many cohorts of talented students who have garnered admirable results in national music competitions.
She has held numerous solo concerts in Singapore and has been invited as a guest performer and soloist for many orchestras in China as well as in Malaysia. Her repertoire consists of numerous works for the erhu and orchestra of which many she premiered.
Her playing has been commended by famous Chinese music critic Liu Zai Sheng as full of passion, and yet elegantly measured, reflecting a thorough grasp of the music.